Fishing Charters
Capt. Tim Brady & Sons Charters &Tours
To see price please login.
Price : Price On Call
Date : March 19, 2019
Location : ONE TOWN WHARF PLYMOUTH MA 02360
Mary Elizabeth is a fast comfortable deep sea fishing vessel catching cod, haddock, conger eel, flounder, wolf-fish, striped bass, bluefish, sea bass, shark and other species in season. Although US Coast Guard certified for 49 passengers we limit Deep Sea Fishing trips to thirty (30) anglers. We can offer our charter customers a number of trip options.
Our most popular trips run 7:00 AM to 1:30 PM, 1:30 PM to 6:30 PM, and 7:00 AM to 4:00 PM. Prices vary by length of trip and day of the week. Weekend trips and longer hours are more expensive than weekday and shorter hours.
Because we are a true "charter" boat you benefit in many ways:
1. We will never "charter" the boat out to two or more groups on the same boat. Unfortunately some larger "head boat" operators will mislead small groups by combining them on the same boat.
2. Our boat is US Coast Guard inspected unlike "6-pack" vessels who are not required to meet stringent safety standards and thus not ALLOWED to take more than 6 passengers.
3. We do not have a bar or galley onboard and you therefore eat better and save money by bringing what you want to eat and drink. Many vessels with a galley/bar make more money underway from their galley than they do anchored and fishing (using bait and not selling snacks)
4. Our captains (Tim Sr. and Tim Jr.) and crew are competent, polite and enjoy being good at what they do. We have built our business on providing every customer with a safe, enjoyable experience.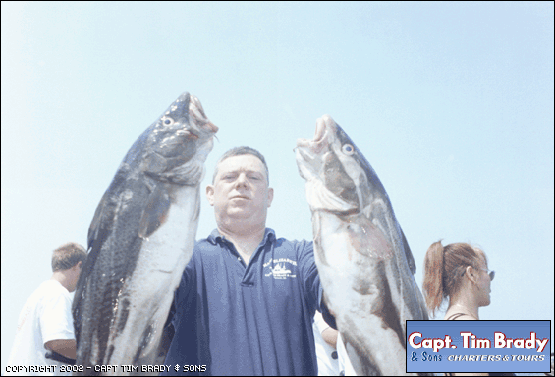 Sports Fishing Charters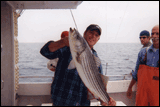 We specialize in larger sports fishing groups than uninspected "six pack" boats can accommodate. Our ability to take more anglers makes chartering with us a better value.
The Mary Elizabeth was designed to serve as a "super" sports fishing boat with the outriggers, tuna tower, fish finding sonar and heavy duty tackle to haul in trophy striped bass, bluefish and blue fin tuna.
The 2001 Massachusetts Saltwater Fishing Derby prize winning bluefish (Jr Division 20lbs.) was landed aboard the Mary Elizabeth by mate Sean Brady, son of Capt Tim Jr. and Grandson of Capt. Tim Sr.. Sean is one of three generations of the Brady family working and fishing aboard Mary Elizabeth.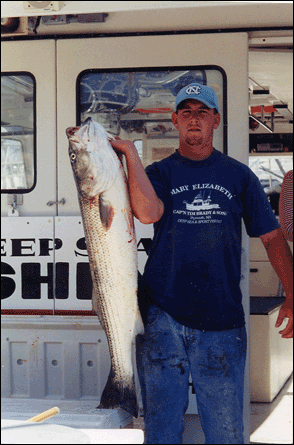 The Mary Elizabeth is the perfect boat for an unforgettable, water level view whale watch charter. We offer the rare combination of "big boat safety" and "small boat intimacy" for your family and friends.
Leaving from Plymouth we head directly for Stellwagen Bank National Marine Sanctuary and an encounter with Humpback, Fin and Minke whales, Atlantic white sided dolphins, sea turtles, Storm petrels, and potentially dozens of other deep sea creatures.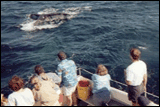 Stellwagen Bank Cod Charters
Cod jigging charters to Stellwagen Bank National Marine Sanctuary feature some of the world's best bottom fishing. These trips require at least an 8 hour charter (typically 7 to 3) and the fishing is physically demanding. Fishing is limited to about 15 anglers at a time but many groups rotate poles and can then bring more passengers. Our Beals Island Type wide hull design handles the offshore chop better than many larger vessels.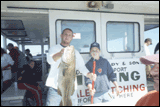 Specialty Cruises
Both Capt. Tim Sr. and Capt. Tim Jr. are intimately familiar with the history and biology of the Plymouth and Cape Cod Bay area. This and the comfortable accommodations aboard Mary Elizabeth make an ideal setting for your family, colleagues and friends to enjoy one of our specialty cruises.
Among the cruises we have provided over the past few years are:
Narrated Harbor tours
Lighthouse Cruises
Sunset Cruises
Birthday Cruises
Bachelor/ Bachelorette Cruises
Memorial Cruises (scattering of ashes)
Day cruises to Provincetown / Cape Cod Canal / Green Harbor / Scituate / Boston 
Tall Ship Cruises
---